Its the best time of the year here in Louisville, it's Derby Season! Taking place on the first Saturday of May, the Kentucky Derby brings thousands of people from all over to witness the greatest two minutes in sports. To help celebrate and kick off Derby season we've made a list of all the fun events leading up to the Derby.
The Great Balloon Festival
April 25th- 27th
The Great Balloon race is one of the most popular Kentucky Derby Festival events. This fun event is perfect for all ages, and features the Great Balloon Glow, a hot air balloon race, and much more!
Stephen J. Cohen /Getty Images
April 25th - May 3rd
Located in Waterfront Park on the Ohio River, the Chow Wagon is the perfect place to grab a bite to eat and enjoy some live entertainment!
Credit Image: https://insiderlouisville.com/lifestyle_culture/derby-festivals-chow-wagon-opens-thursday-with-music-corn-dogs-zombies-and-more/
April 27th
The 16th annual Ken-Ducky Derby is a fun and exciting event where 42,000 rubber ducks will be dropped into the Ohio River. Spectators can purchase rubber ducks that will help benefit a local nonprofit organization, Harbor of Louisville. Harbor of Louisville helps patients with physical and cognitive disabilities.
Credit Image: https://www.wlky.com/article/sound-the-duck-calls-the-ken-ducky-derby-is-official-kdf-event/3765746
April 29th
The great steam boat race is an event that happens the Wednesday before Derby. This race takes place along the Ohio River and is a competition between the Belle of Louisville and Belle of Cincinnati.
Credit Image: https://www.gotolouisville.com/blog/five-ways-to-enjoy-the-great-steamboat-race/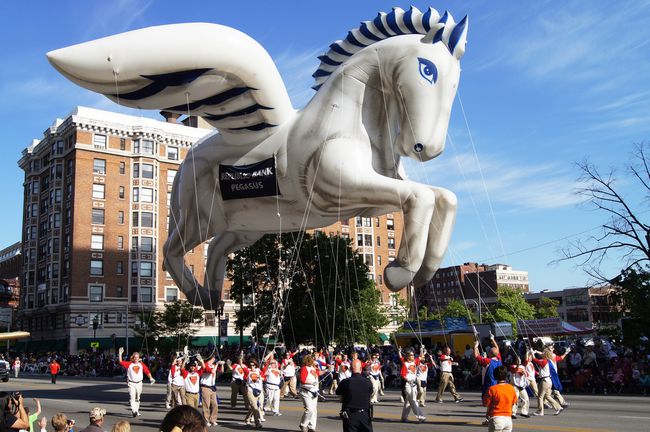 May 2nd
The Pegasus Parade was one of the first Derby Festival events and it still remains one of the most loved events. This family-friendly event features colorful floats, inflatable characters, marching bands, horses, and so much more!
HelloLouisville.com/Flickr